We Share...
Photo Gallery...
We Share...
Annual Day 2016-17 at St. Francis School, Pithora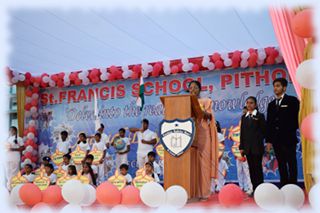 St. Francis School, Pithora celebrated, its Annual Day on Friday, on December 2, 2016 with great enthusiasm, vibrancy and delight. Mrs. Neha Chamapawat (IPS) Police Superintendent of Mahasamund was the esteemed Chief Guest. Among other dignitaries Sr. M. Dolly, the Provincial Superior, Rev. Fr. Joseph Vaipammadam, the parish priest of Pithora, Magistrat of Pithora, were present along with invited guests of fathers and sisters, parents and students.
The programme commenced with the lighting of the Ceremonial lamp by Mrs. Neha Chamapawat IPS. Sr. M.Johncy, the Manager formally welcomed the renowned guest. Head Boy Tushar Agrawal and Head Girl Barkha Agrawal with the team presented the School's Annual report of the past session. This was followed by the prize distribution where the Honorable Chief Guest congratulated and presented prizes and certificates to the meritorious pupils and athletes of the school.
The Cultural programme based on the theme 'Delve into the realm of Knowledge" commenced with 'Invocation Dance'. Arrays of scintillating performances were staged by the students. The entire programme was planned, coordinated and conducted by the able guidance of teachers.
Sr. M. Rosmi, the Principal thanked everyone for their presence, cooperation gesture of appreciation. The programme concluded with the National Anthem.
Click here to see more images...