We Share...
Photo Gallery...
We Share...
New Leadership Team - Indian Province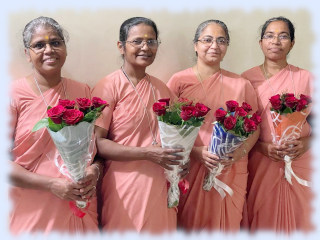 With the theme "Rooted in Christ" the Capitulars of our Indian Province gathered at the Provincial House in Raipur for the Provincial Chapter of Election from January 27 - January 29, 2022.
On January 29, 2022, the elections were held.
Sister M. Johncy Kurisunkal was elected as the Provincial Superior for a first term in office. The Sisters of the Provincial Council of the newly elected leadership team are: Sister M. Renita Thenakarayil, Provincial Vicaress. Sister M. Mercy and Sister M. Tessy Chittupramban are Provincial Councilors.
The installation of the newly elected Sisters of the Provincial Leadership took place on February 02, 2022, on the Feast of the Presentation of the Lord and the 25th World Day for Consecrated Life, during a Holy Eucharistic celebration, officiated by Most Reverend Victor Henry Thakur, Archbishop of Raipur. The Chapter of Election was followed by the Provincial Chapter of Affairs from January 30 - February 2, 2022.