We Share...
Photo Gallery...
We Share...
Celebration of the First Profession of Sr. M. Alibha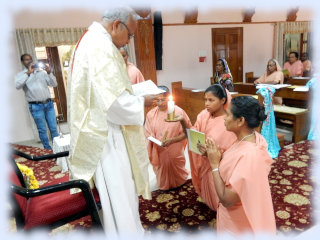 We had a meaningful and graceful celebration of the first profession of Sr.M.Alibha on November 10th. Rev.Fr.Sebastian Poomattam, the Vicar General of our Archdiocese concelebrated the Holy Eucharist with some priests from Raipur. Sr.M.Alibha's family members, religious sisters from other communities and all our Sisters In-charge and several of our sisters were present for the occasion. Fr.Sebastian, in his homily thanked the parents of Sr.M.Alibha for offering their daughter to the Lord in the service of the Church. After the Holy Eucharist the feastarian was felicitated with songs and wishes. The group dispersed after enjoying a fellowship meal.
Click here to see more images...