We Share...
Photo Gallery...
We Share...
First Profession and Silver Jubilee Celebration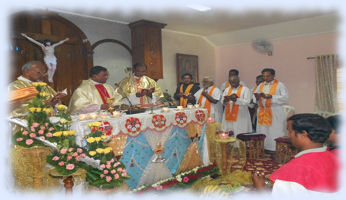 The theme for the day 'The Spark of God's love fills my heart'... invites us to be immersed in the depth of His love that propel us to illuminate and lighten the life of others.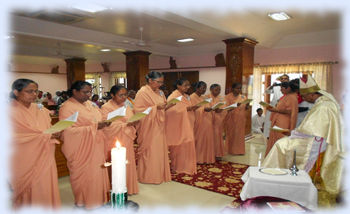 With this refreshing message on Wednesday May 07, our jubilarians, Sisters Regina, Prasanna, Merline, Gracy, Roshni, Alice, Celine and Catherine stepped forward to the altar of God in exultation of their commitment and loyalty to the Franciscan way of life for the past 25 years. On the same day two of our novices Gifty and Juletha pronounced their First Vows and dedicated their life to God the Almighty to be the members of our international community.
The Archbishop of Raipur, Most Rev. Victor Henry Thakur along with 19 priests concelebrated the Holy Eucharist. Many people including family members of our feastarians, sisters from various Congregations, friends and well wishers marched to the chapel to witness the celebration of thanksgiving.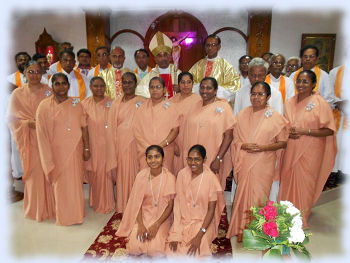 After the Holy Eucharist a short felicitation was arranged to congratulate the feasterians and wished them God's blessings in abundance in the service of the Lord. The Sisters in one voice expressed their gratitude to God for His fidelity and faithfulness in their life and thanked each member of the province and our international community for the continued support and guidance in their every phase of life.