We Share...
Photo Gallery...
We Share...
Final Profession and Silver Jubilee of Vows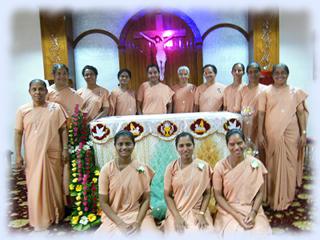 St. Francis Nivas witnessed an impressive celebration on Saturday, May 25, when nine Silver Jubilarians, Srs. Valsa, Shygi, Anjali, Rita, Cecilia, Princy, Sabeena, Sangeetha, and Manuela gathered to celebrate their fidelity and dedication to the Franciscan calling they received twenty five years ago. On the same day Srs. Josephine, Jancintha and Arpita pronounced their final commitment to the Lord.
The celebration had its theme, 'You be my Light, Oh Lord, lead me on…'. The song of Magnificat resounded in everyone's lips seeing the Jubilarians courageously moving toward the altar with lighted candles. It was a moving and impressive scene the three sisters for final vows prostrating before the altar during the litany of all saints.
The Archbishop of Raipur, Most Rev. Joseph Augustine along with twenty two priests concelebrated the Eucharist. About one hundred and fifty people including family members, sisters, friends thronged the chapel to witness the beautiful celebration. The archbishop congratulated the twelve sisters who pursue resolutely and relentlessly to follow the Lord through their life of consecration.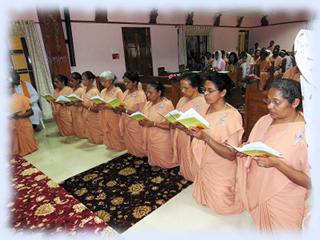 After the Mass a short felicitation was held to congratulate and appreciate the feastarians. In his message during the felicitation the archbishop lauded the Medical Sisters with words of adulation for the marvels the Lord has been doing through them in the diocese and in the country for the past four decades of its life. The feastarians expressed their gratitude for the way the Lord has lead them and the constant support they receive from the members of the province and the international congregation.