We Share...
Photo Gallery...
We Share...
Celebration of Final Vows (7 June 2022)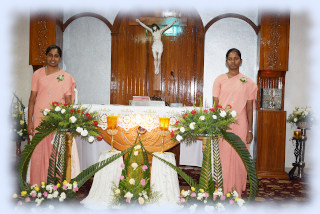 In a festive celebration held at Saint Francis Nivas, Raipur, our sisters, Sister M.Reshma and Sister M.Jeena made their final profession on June 7, 2022. His Grace Most Rev. Victor Henry Thakur Archbishop of Raipur, along with fourteen priests concelebrated the Holy Eucharist. Sr.M. Johncy, the Provincial Superior received their vows. In the name of our congregation Sr.M.Lima, General Councilor accepted them to our international community. The presence of many religious from in and around Raipur with the extended family of our children added more beauty and meaning to the celebration.
Sisters Reshma and Jeena had a nine months preparation at Dhyanalaya, Mumbai as preparation for this important step in their life. "From now on your heart is mine, and mine is Yours alone," quoting the dairy of Saint Faustina, the Sisters gratefully recounted the numerous people who have been instrumental in leading them to this phase of their life.
A short felicitation was held at the convent entrance in honour of the feastarians. The guests left after having enjoyed a festive meal and blessing the feastarians with their assurance of prayers and support.
Click here to see more images...