We Share...
Photo Gallery...
We Share...
Celebration of the Diamond and Silver Jubilee of Religious Profession
'You are a sweet grape in a chosen cluster' (said Jesus to St.Faustina)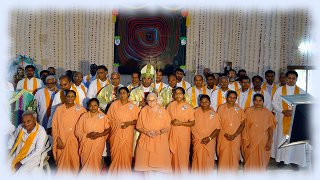 On 09th June, the Anjali Niketan campus was in its full swing of joy of jubilation as our dear Sr.M.Gerburg celebrated her diamond jubilee and Sr.Archana, Sr.Maria Goretti, Sr.Mercy, Sr.Lucia, Sr.Shalini and Sr.Juliana celebrated their Silver Jubilee.
With sentiments of Gratitude and rejoicing we acknowledge the marvellous deeds of the Lord in the life of Sr.M.Gerburg who through her selfless sixty years of her religious life unfolded the goodness of God in her life.
"On May 03, 1958 at the age of 23, the young sister Gerburg took her First profession in Münster, Germany. After having spent 16 years of committed life in the soil of Deutschland, in 1974, at the age of 39, ie 44 years back Sr.M.Gerburg stepped in the Indian soil and made the diocese of Raipur, her home. Her life was very eventful and challenging. During these 60 years of her amazing life she has indeed been blessed abundantly by God. She allowed herself to stand firm in all the events of life giving shade and shadow to all.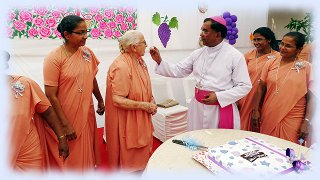 Diamond and Silver Jubilee celebration is a time to recognize the contributions of the past, celebrate the present, and envision hope in the future fulfilment of God's invitation to live for Him and for His people. The occasion enriched our awareness of God's gifts to Sister Gerburg and our silver jubilarians and enabled us to share with others the tapestry of God's call and the fragrance of His faithfulness. It is a wonderful reminder of the challenges and sacrifices asked of those, who are chosen to leave all things to follow Christ.
The jubilee spirit heightened with the arrival of our guests, Sr.Beata our General Councilor, Sr.Margarete, the General Treasurer and Prof. Dr. Michael Möllmann our special guest. We also experienced a closer bond with our sisters around the world, who were represented by their wishes and greetings.
Click here to see more images...