We Share...
Photo Gallery...
We Share...
Blessing and Dedication of Newly Built Chapel and Convent Building Anjali Niketan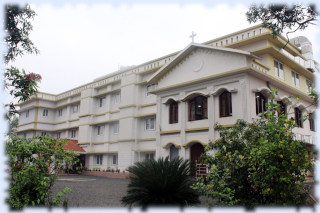 "Gratitude can transform common days into thanksgivings, turn routine jobs into joy, and change ordinary opportunities into blessings".
October 05, 2020 was a blissful and a remarkable day as the blessing and dedication of newly built Chapel and convent building was solemnized at Anjali Niketan, Pithora.
His Grace Most Rev Victor Henry Thakur, the Archbishop of Raipur Diocese inaugurated & blessed the newly built Chapel. Archbishop in his homily said, 'let our houses be a place where Christ is always welcomed'; he added further that a home is not made with bricks & cement but with true relationship among the members. He reminded that our very presence is to witness Jesus; we are called to evangelize, promote and integrate the gospel values of love and acceptance. He highlighted in his homily on 'Fratelli Tutti' ("Brothers all"), the new papal encyclical on fraternity and social friendship.
After the festive Holy Eucharist, we had the blessing and inauguration of the new convent building. Sr.M.Gerburg and Sr.M.Dolly, the provincial inaugurated the convent building. Sr.M.Dolly, in her message said that every brick and piece of plywood in this new convent signifies the struggle and hard work of becoming a home owner; she wished the sisters saying may the windows and doors of our new home bring good fortune, success and happiness for our entire province.
It was also a day of importance as we laid the foundation stone for the proposed hospital building. The triple ceremonies- dedication of the Chapel, blessing of the new convent building and laying of the foundation stone for the proposed hospital building were graced in the presence only of few of our sisters from our own communities from Raipur dioceses due to special circumstance of Covid-19 pandemic.
Indian Province remain grateful to Sr.M.Margarete Ulager, the general superior and the general administration; Sr.Maureen, the provincial superior and the sisters of American Province and all the sisters of our International Community for their support, accompaniment and guidance we received in various ways during the construction of our convent building Anjali Niketan and to actualize this dream.
Click here to see more images...