We Share...
Photo Gallery...
We Share...
Celebration of Silver Jubilee,
Final Profession (07 June 2019)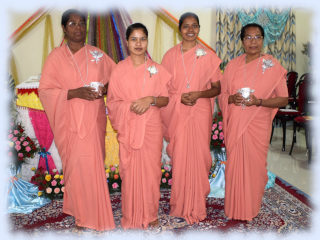 June 07, 2019 was a day of Jubilation, a day of thanks giving to God. We thanked the Lord together with Sr.M.Sherly and Sr.M.Reena who celebrated their silver jubilee of religious profession and Sr.M.Sanjukta and Sr.M.Yamuna who made their final commitment. There were around twenty priests to concelebrate the Holy Mass with Archbishop Victor Henry Thakur. There was much joy and excitement in St.Francis Nivas with the presence of more than seventy of our sisters from the province, many religious from the surrounding communities in Raipur, numerous friends and well-wishers and the family members of the feastarians.
"Hold back nothing of yourself for yourself, so that he who gives Himself totally to you may receive you totally." Quoting these soothing words of St.Francis, from the outer cover of our booklet on profession Archbishop in his homily encouraged the feastarians to surrender themselves totally to the Lord without reserving anything for them.
During the felicitation the Archbishop honoured the jubilarians and Srs.Yamuna and Sanjukta with a shawl each for their contributions to the diocese. The sisters thanked the Lord for treasuring them as priceless pearls all these years and expressed their gratitude to everyone present and the very many people who have influenced their life.
Click here to see more images...