We Share...
Photo Gallery...
We Share...
Silver Jubilee Celebration (07 May 2016)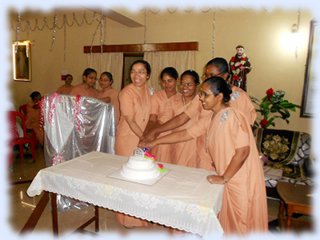 With the theme "In all things give thanks" Srs. Sushma, Deepa, Jyoti, Anupa and Pauly celebrated, the Silver Jubilee of God's Grace and faithfulness. Rejoicing they thanked God for their vocation, their call and their life of service. The community appreciated them for their commitment and dedication for the past 25 beautiful years of vowed life. Our Archbishop Victor Henry Thakur was the main celebrant. About twenty four priests, sisters from various congregation, family members of jubilarians and many well wishers joined us on this occasion.
A felicitation programme was conducted to cheer the feastarians. The jubilarians blissfully acknowledged their gratitude to the Lord for His faithfulness and fidelity. They appreciated and thanked every sister of our international community.
Click here to see more images...